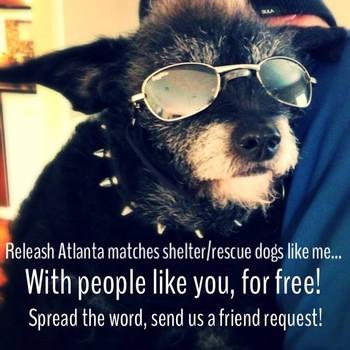 It's never been so easy to adopt, not shop!
Originally appearing in the Examiner Website March 25, 2014
By Katherine Collins/Atlanta Dog Rescue Examiner
Atlanta resident Kristin Tremblay founded Releash Atlanta after being greatly involved in pet rescue for several years. She would often hear paltry excuses from people about why they wouldn't adopt, such as, "It's overwhelming," or, "I don't know where to start," or, "They don't have purebreds," and the kicker: "It's too sad for me to look."
Admittedly, being immersed in the world of pet rescue can be heartbreaking at times. Knowing what some pets suffer through can weigh heavily on a person's heart and soul. With that in mind, Kristin created Releash Atlanta, a free dog matching service that connects rescue pets to people who want to adopt but find it a bit challenging.
"Think of it as Match.com, but for shelter and rescue dogs and the people looking to adopt," Kristin explains. "Releash Atlanta takes your request of exactly what type of dog you'd like – age, size, gender, temperament, etc., – and we find the dog for you through a local Atlanta rescue or shelter. Some may require more time than others, but we are dedicated to finding the right dog for you!"
Releash Atlanta has an active Facebook page, and in their posts, Kristin and her team avoid sadness, tear-jerking blurbs, and depressing stories. They want followers to look forward to seeing their page. With weekly professional photo shoots featuring a "dog of the week" and daily postings of delightful adoptable dogs, it isn't difficult to attract an audience.
"This is a place where rescues come together for the greater goal of getting these dogs adopted so another one can be saved in their place," Kristin states positively. "We have eight matchers right now and could always use more! We have been around for a month exactly, and are focused on pulling people away from wanting to go to a breeder; we want to encourage them to rescue by making it painless, easy, and fun!"
Kristin's energy, enthusiasm, and determination are sure to propel Releash Atlanta forward to major success.
You can visit the Facebook page for Releash Atlanta, and send them a friend request to join the movement to promote adoption. They also have a webiste that highlights some of the adoptable dogs available from rescues in the area.
Releash Atlanta will walk you through the process of adoption, and if any questions arise, they will connect you with the rescue. The final say on whether it is a true match comes from the rescue itself, but Releash Atlanta does all the legwork so that you don't have to.