Sasha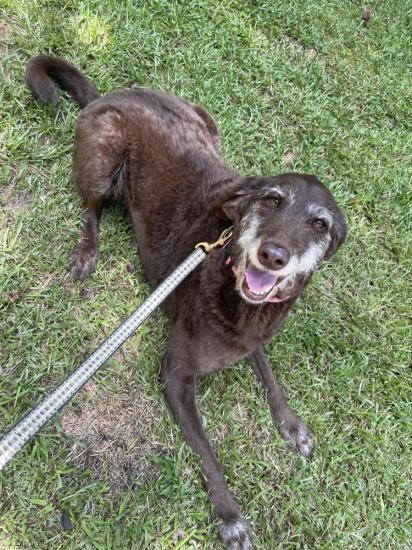 Requirements - no small kids.
Meet Sweet Sasha! She is house- and crate-trained. She has lovely manners and knows sit, stay, come, down, roll, shake, off, and probably more. What a smart gal! She gets excited to go on walks but is a bit of a leash puller. She's working on this with her foster mom.
Sasha is healing up from having a small cyst removed over her right eye. She puts up with the cone and will be very happy when she is cone-free!
Sophisticated Sasha is gentle and, after growing accustomed to the new place, laid back. She follows her foster mom around the house and finds a place to lay on the floor in the same room. Though she would probably prefer her people to be home with her all day, she has managed with her foster parents gone during the workday. She celebrates when they come home with a resonant welcome bark.
Serene Sasha is good with other dogs and cats. Due to her size, she will be best with older children…especially those who want to do fun tricks with her. Sasha is dream dog and can't wait to get into her forever home!