Starlord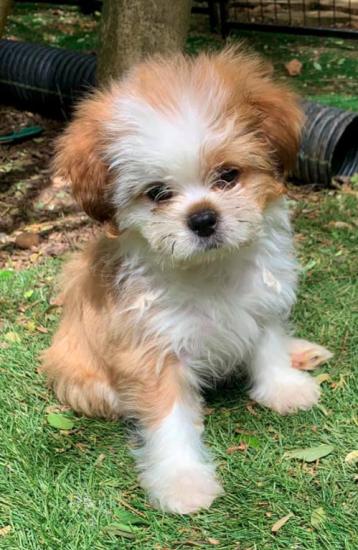 PLEASE READ FULL BIO BEFORE APPLYING; APPS THAT DO NOT MEET REQUIREMENTS WILL NOT BE PROCESSED
Yes we know these puppies are the CUTEST little furballs but they are not "typical" puppies! These poor babies were dropped at a shelter in terrible condition – matted, covered in fleas and crystallized urine, and terrified of everything. Unfortunately it's clear that they were not handled gently or remotely cared for… although they are progressing so well in their foster home, they have some special needs in their forever homes to ensure they continue to overcome their fears and develop into well-adjusted dogs! They are still so young; we have every confidence they will blossom into wonderful pets but will need families that understand their background and are willing to gently work with them. We were told their father was a shih-tzu and they are certainly small breed – our best guess would be adult weights of 15-20 pounds?
These puppies are about 9 weeks old; dog-friendly, sweet-natured and not remotely potty trained! Let's be honest, these guys have bladders the size of lentils. Adopters should expect that this litter will need to go potty every 60-90 minutes throughout the day with a longer stretch at night, but should expect to be up AT LEAST once a night for bathroom needs.
Due to the high level of care and attention a very young puppy needs, their foster will be looking for a home where someone is there most of the time. Please read on for each puppy's personality traits and household needs!
REQUIREMENTS FOR ENTIRE LITTER:
- Someone home most of the time (WFH or similar)
- No kids under 10 due to their fear of strangers, loud noises and sudden movements
- PATIENCE, PATIENCE, PATIENCE – these are not "run right up to you" puppies; they absolutely will warm up over time but need adopters willing to show patience and compassion
- No big/rough play dogs in the household – they guys are extremely dog-friendly and would love similar sized playmates! But due to size they need canine siblings under 25 pounds OR very gentle dogs
- Fenced yard preferred (leash training is not likely to be a quick process with these)
*Listed below in order from most to least outgoing personality!
Groot – smallest of the litter, less than 2 pounds!! NO KIDS (sorry, he is literally a free-range gerbil and I barely trust adults with him). No dogs in household over 15 pounds (again, "free-range gerbil"). LOVES human attention and being cuddled and held; would love a canine buddy but they would need to tolerate his spicy personality – he rules the roost in his foster home.
Drax – this guy was the quickest to warm up and displays the most "typical" behavior! Super playful, would love a small doggie playmate, will need regular brushing but extent of fur maintenance unknown. Does NOT enjoy being left alone; would not be a good fit for an apartment unless there is a doggie playmate to keep him from "complaining."
Mantis – this little lady will solicit affection and is warming to the idea of being picked up! Will happily play tug of war with you, a sibling, or a tethered toy; fur not likely to need major maintenance. Shrieks like a banshee if separated from littermates; not a good fit for an apartment.
Rocket and Starlord – they would do best with another small (or gentle) dog in the household –they both LOVE playing with their littermates and look to the more confident pups for guidance (wait, he likes being pet? Maybe I would like being pet!). Will need a grooming budget! Their coats need regular maintenance to prevent matting but forget dropping them at Petco – you will need a savvy (preferably mobile) groomer who can work with a tiny, wriggly, super skittish puppy.
Gamora – this one breaks my heart. She has learned she loves being pet but is so dang scared that she needs to be in a "safe space" first – typically tucked into a crate corner – then she licks your fingers and nuzzles into your hand. Will need a gentle adopter who is willing to work with her on her terms. She does not enjoy when her littermates play too rough so might do best in a more low-key household, and will also need regular grooming from a skittish-pup-savvy, experienced groomer.